After much drama surrounding the appointment of team India's head coach, Ravi Shastri was finally confirmed as the new head coach of the Indian cricket team on Tuesday. According to BCCI, Shastri's earlier stint with Indian team (as director) and his experience remained the main factor behind his appointment as head coach. Beside this, there are other reasons which hail him as a right take for head coach of Indian team. The top 3 reasons are as follows:-
#1. A 360-degree Cricket person:-
Shastri Started as a specialist spinner but became a batting all-rounder, then a specialist batsman who opened the innings.He played above his potential and ended with 11 test centuries and 280 wickets until a knee injury tragically cutting his career short.
     Once done from active playing,  he started his second inning as a multifaceted Cricket person who is a commentator, expert, analyst, cricket writer and an anchor. He slowly carved a special position for him. Then his job as Indian team director and now head coach will be additions to his never ending list. This man is second to none in the world when we search for a 360° Cricket Personality. He's always been closely involved with the game around the world. He has great credentials and experience in the Cricket world.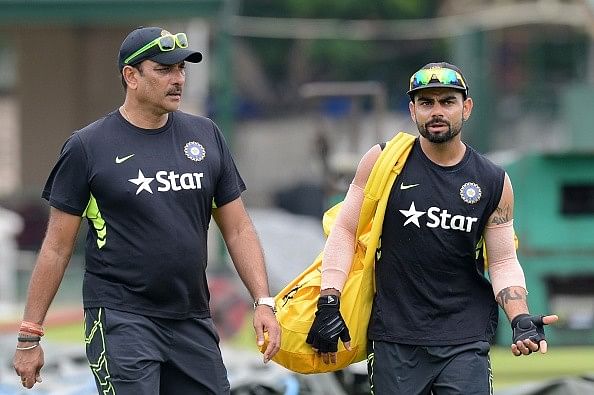 #2. Good rapport with current Indian team:-
Shastri shares a good rapport with Indian team especially Captain Virat Kohli. It was an open secret that Kohli preferred Shastri as the new coach. Virat has said earlier that he would love to have Shastri as head coach.He is a good team motivator and supports his team fully. During his stint as team director from 2014 to 2016, he brought the dressing room together, especially when MS Dhoni quit Test cricket, allowing them enough freedom to grow as individuals as well as a unit. Shastri fits mentor role perfectly as he knows how to guide motivate and instill discipline in players.
The exact boundaries of a captain/coach relationship are set by the BCCI who have drawn the lines and decided that the captain is supreme, the coach performs only a supporting role. Shastri knows his boundaries very well. He will be a good coach to a good captain; part caring elder, part motivational speaker.
#3. Experience Infinite:-
Ravi Shastri has wealth of experience under his belt both as a player and a coach that contrasts him from being the flat deck to rank turners. He's been closely involved with the game around the world, the players, former legends, he's seen other teams performing across various playing conditions, and given the nature of cricket today, his inputs would be of great value to the team. 
     It is the experience only that a team of India's stature will need at international level. Do the likes of Kohli, Dhoni, Ravichandran Ashwin and Ishant Sharma really need to be told how to bat or bowl? At best, they need advice, opinion even, on certain technical aspects.Having extensively traveled international cricket, it's highway and bylanes, Ravi Shastri – the 360-degree cricket person – knows the road, the bumps on the way and the speed breakers.So clearly this immense experience is the reason why Shastri is the right man for Coach of the Indian team.
Author's Take:-
Ravi Shastri with his 360-degree Cricket personality, good rapport and infinite experience is certainly the best choice for head coach of Indian Cricket team. For a team to be successful at the international level the relationship between the coach and Captain must be well. And Shastri is the man who knows his stuff well. The Indian team will surely perform well under his guidance and support.