"I don't think there's a Messidependencia" – Rafinha, Current Barcelona player.
Once you are a part of system induced with magic, you fail to distinguish whether it's you making it work or the magic itself. That exactly is the case with FC Barcelona in the past decade. What started out as Guardiola's golden touch now at times shows signs of fading. Pep Guardiola built a team around Lionel Messi, the magician from Argentina, which was very close to unbeatable. It was very simple for them; either be a part of the system that suits Messi's desired gameplay or feel free to leave the club. That is exactly what happened with Zlatan's tenure in Barcelona. The system worked in their favour as they won almost every trophy that came their way.
Even after Pep's departure, the core principle of adapting to Messi's ways is still an unsaid rule in Barcelona. If you notice the games of the last few months, you will see Messi never stays in the right wing religiously. He is often given just a free roaming role where he goes about RCM, RAM and RW. The question that needs to be asked right now is "Are Barcelona sacrificing their future by depending on Messi too much?"
The answer to the above question has two perspectives, Technical and Psychological.
 Technical aspects
Many people believe Messi's real game is what he does with the ball. Well, that's a myth. To truly understand the magnificence of his gameplay, we need to understand his game off the ball. Messi's grandfather infamously called him lazy after the 2015 Copa America. If you observe closely, Messi does seem to just walk around when he is off the ball. But what we fail to realise that in his mind, he has already predicted the next few seconds of the play. He waits for an opportunity, silently manoeuvring in the opposition area before making a run. What he does is simple to look at, but very difficult to execute. He draws the defenders to him, always keeping them wary, cautious. He keeps his own distance and makes them follow him to suit the next move of the team. The problem is, though, that Barca players have gotten used to this so much that they almost don't realise it until Messi is not playing. With Messi around, they can simply just pass to him and let him do the needful. This enables them to get away with having to do much.
You can watch him off the ball movement here:
Without Messi, Barca's gameplay becomes less fluid and more direct. The approach changes the essence changes.  The purpose becomes to somehow win the game, score a couple of goals and protect the lead. Well, there are exceptions, but Messi's impact is humongous and his absence does affect Barcelona. They have a far more uncontrolled initiative as they keep attempting more and more shots for their maestro isn't around to open up spaces.
Stats:
As you can see the number of chances created is greater in his absence, but the conversion ratio is lesser. The team keeps trying to get a goal by hook or crook. The controlled composure is lacking in his absence.
His individual match winning capabilities have so often rescued Barca that people gave up keeping a count. Be it against Bayern in the UCL, the solo runs through the opposition defence or the unbelievably consistent free kick conversions, Messi's influence seems pretty unique given that it is XI a side team game.
Gerard Pique once remarked, "In Leo, we are talking about the best player in the world and when things are not going well you have to use him. Even if he is half lame, his presence on the pitch is enough to lift us and our play in general."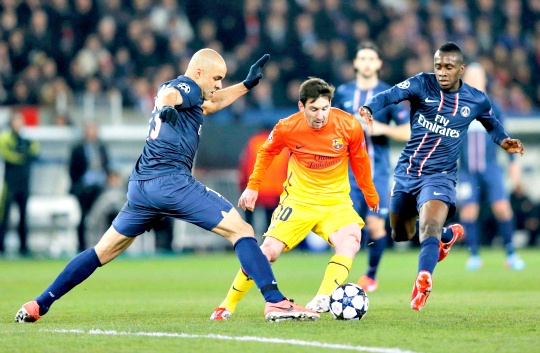 Psychological Impact
- Advertisement -
That brings us to the second angle on dependence on Messi, the psychological impact. Each and every Barca player, coaching staff member, the fan looks up to Messi every single time the tides are against them. He has showcased so many miracles that it has become very natural for people to look up to him. He has become the very soul of Camp Nou. He is a La Masia product who has risen through the ranks. One thing that is constant with Barcelona recently, is that Messi will always make it to the headlines. Be it for the good or the bad, but very rarely do we see Messi not being talked about, especially in the Spanish Media. This often leads to players being let off the hook for below par performances as the discussions are always revolving around Messi. This often leads to a laidback approach by many players. This dependence on Messi to face the criticism in the case of a bad performance restricts the growth of players as a team and hinders progress in turn.
- Advertisement -
That being said, we need to ponder over the impact of such dependence. If things continue as they are, Barcelona will soon lose all their charm in a few years and just be another football club playing decent football. The ruthlessness, the precision will soon fade away in the times without Messi. Hence, slowly but steadily, they must move to a system where the team is more balanced in terms of interdependence.
Read: How a war in the Middle East changed English football