We might be living in a changed world, with new players and new rivalries. Presently, we talk about the Murrays and the Djokovics. But, not too long ago, we lived in the era of Federer and Nadal, two of the greatest to have graced the game.  Due to the rise of talents like Djokovic and Murray, the world seems to have forgotten the taste of the classic Federer-Nadal rivalry. With an imminent Australian Open finale clash in cards, we break down the classic rivalry for you.
"It might be, as far as history goes, the biggest match ever in Australian Open history – and maybe grand slam history," – Andy Roddick on a possible Nadal Federer clash
The history:
Beginning early 2004, the two have squared off against each other 34 times. Nadal has 23 wins to his credit while Federer has 11. Theirs was one of the most iconic sports rivalries ever, the elegant Swiss and the powerful Spaniard. One, the master of the grass while other the King of Clay. They faced each other first in a major final at the French Open in 2006. Thereafter, for three years they both met in the Wimbledon and the French Open finals. It was a rivalry at its finest, as brute force met class. They both managed to reach the finals of competitions of all surfaces, making their game better every day. When they met in 2010 final, it was the first time in 35 years that two Career Grand Slam winners were playing in a final. Federer has the record for being number 1 for a record number of weeks while Nadal has a record for the number 2 position. They dominated the game for around 7 years on the top.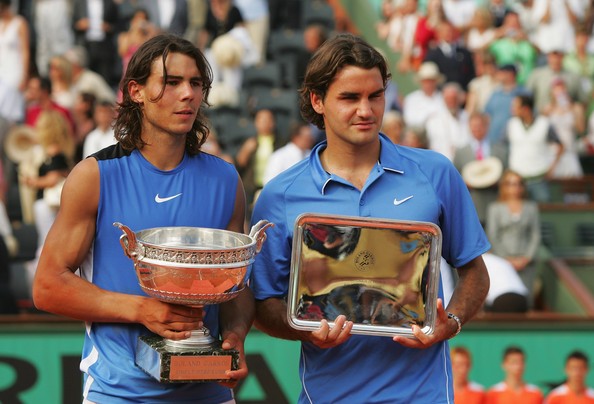 The hurdles:
Post-2010, both Federer and Nadal's career graphs have had a rocky path. Marred by injuries and inconsistencies, they slowly started losing grip on the world of Tennis. Players like Djokovic, Murray and Wawrinka emerged, setting the tone for new rivalries. The two of them haven't been able to play at their physical best as Nadal has been frequently injured. As for Federer, he seems to age like wine. At 35, he is still playing a great game but he seems to have lost his old touch. He has lost quite a few finals, especially to Djokovic. Though, he still reaches the later stages of tournaments consistently.
Why is this important for both of them?
They have reached that stage of their career, where we know it is close to the end. As much as the fans would hate to admit, these icons won't be playing for long. Federer has 17 Grand Slams while Nadal is on 14th. As Andy Roddick mentioned, a victory for Swiss would cement his record at 18. A win for the Spaniard would place him closer to Federer. Given their service to the game, both these legends deserve this grand slam which probably might be their last major trophy before they hang their boots. This is also probably the last time that the two legendary players face off for the last time in a Grand Slam final. Fans will be praying that both win their semis and give us the finale we all deserve. We wish them all the best. To relive the classic rallies, you can watch this video:
https://www.youtube.com/watch?v=yLgDxf4WJ2s