Australia has come back strongly to level the series at Perth after India took the lead in the opening Test of the series in Adelaide. The sledging and constant chirping between Virat Kohli and Tim Paine was the highlight of the Test Match. Matters boiled over, as both the captains had a go at each other. Virat Kohli was constantly in the face of his opposite number Tim Paine and even gave him a verbal send off,while his counterpart replied him back when Nathan Lyon removed Kohli in the 4th innings. A lot has been written and discussed about the Kohli-Paine incident.Australian Head Coach Justin Langer has cleared out that all the communication between the two captains took place in good spirits and there was no abusive languages hurled at each other.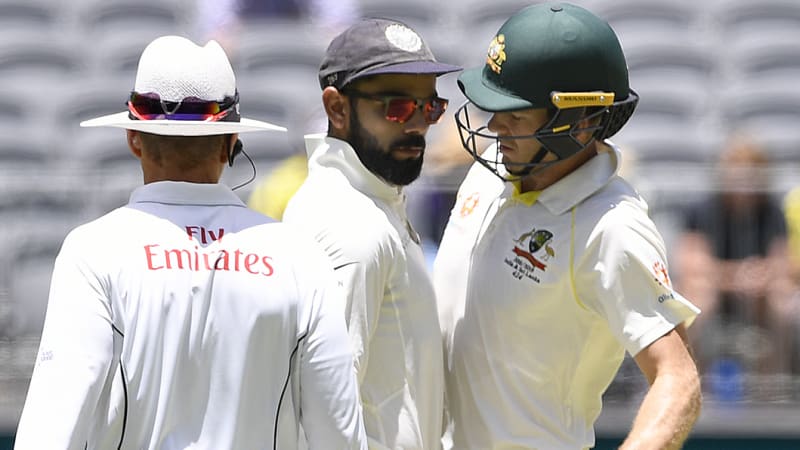 "I thought it was brilliant. As the two captains and they're trying to stamp their authority on the game and I don't think at any point there was any abuse or any real aggression to it," Langer told Fox Cricket.
"In fact, there was a bit of humour and there's been a lot of talk about banter. There's got to be some in a Test match. It's a great part of the game, and there was actually a bit of humour, a bit of Aussie humour as well," Langer added.
"That's what we pride ourselves on we've got a bad reputation in a lot of ways, but when there's a bit of humour in it I thought it was a good exchange," he added.
Langer also said that the discussion and incident that took place between the two captains was a little bit controversial but it added to the thrills and spills of the match.
"It was quite emotional at the end of day three to be honest because I felt India had been really aggressive. I love it and that's what Test cricket is really about. But we just needed to keep standing our ground with our skill, and hopefully, we did that in this Test match,"he concluded.
India and Australia will play the 3rd Test match of the series at MCG starting on the Boxing Day (26th December).