India's newly elected ODI and t20 captain Virat Kohli gave multiple insights into his approach to tackling the captaincy of one of the best cricketing teams of the world.
"It's the same thing. It's just that I am in charge of decisions now and he (Dhoni) will be giving his views, which was the case before as well. I think we both understand as professional cricketers and it'll be pretty smooth (transition),"
Many had feared how the new system would work now that Dhoni isn't the captain anymore. Kohli was pretty professional about his response. He made it clear that he would welcome Dhoni's suggestions as he would speak from experience, at the same time he would use his own reading of the game to make the final call. On the other hand, it is a universally known fact that MS is probably one of the most composed players in the game, who barely gives in to emotion. The combination of Dhoni and Kohli will still work well for the team, given their partnership as Captain and Vice Captain in the past. Kohli also stated that he feels Dhoni will be able to express his game better now that the burden of carrying the team is not there on his shoulders anymore.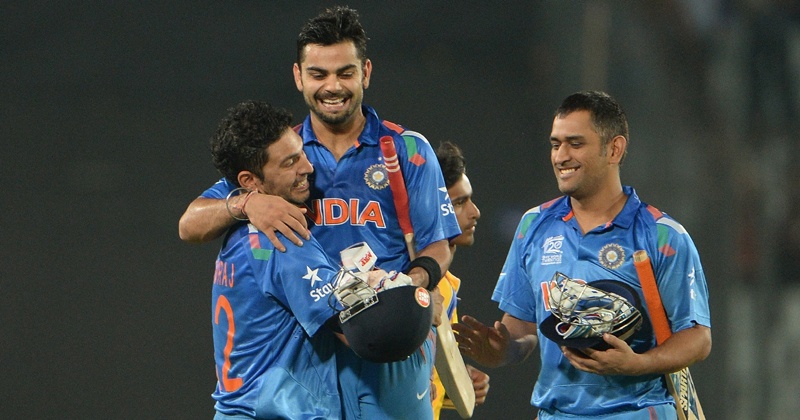 "Yes, that (experience) is something we have discussed before picking Yuvi because we cannot leave so much burden on MS (Dhoni) alone in the middle order. I am willing to take up responsibility up the order, but there needs to be one more guy with him (Dhoni) down the order in case the top order doesn't fire,"
According to Kohli, Yuvraj was brought in to ease the pressure off Dhoni to take charge of the middle order. Yuvraj was given a chance due to his fantastic first class season, where he proved his fitness to get back on the side again. Ambati Rayudu was also considered but lost out due to injury problems. The selectors expect Yuvraj and Dhoni to mentor lower order batsmen like Kedhar Jadhav and Hardik Pandya, who will benefit a lot from such an arrangement.
"So, we are not taking these games as trial games. So these three games become all the more crucial. We are not going to be experimenting much with any things. We are going to find the right combinations from game one and then stick to it till the Champions Trophy."
Captain Kohli made his intentions pretty clear about how the team is going to deal with this series. With the Champions Trophy coming up later this year, India doesn't have a lot of ODIs to play before the tournament. Hence, Kohli believes that they need to go all out and win three ODIs. Having taken charge of the Test team already, Virat stated that nothing much has changed for him and he is as confident of leading the team in the shorter formats as he was for the Tests.