Barcelona manager Luis Enrique has decided to call it quits at the end of this season.
The Spanish coach has been under scrutiny this season as Barcelona are on the verge of ending it with only one trophy. A club of Barcelona's reputation ending a season on such a note is worrisome. The manager also seems to have faltered at other fronts recently, with many reports about player dissatisfaction. At the end of the day, the internal politics of Barcelona have never been simple. The Barcelona board is infamous for its fishy decisions. With the manager set to leave, it remains to be seen what their next move will be.
Enrique's Legacy:
A very big question that might be asked right now is "what's the legacy Enrique is leaving behind in Barcelona?" Under him, the team went from a cohesive integrated typical Catalan side to a side which relied heavily on its star men. It isn't a coincidence that Barca failed the day their front 3 failed to deliver. For a side which once scored goals from moves which were 25+ passes, to go to such levels is a fundamental change. It's quite similar to what their arch rivals Real Madrid have been doing for more than a decade now. Enrique relied a lot on his big players, without laying emphasis on a more cohesive team structure.
At the same time, it will be harsh to say that Enrique was a bad manager. The manager, in fact, was just not a good Barcelona manager. The job at Barcelona is taxing and tiring. There is a reason why someone like Pep had to take a year off before returning to football management. Going by the number of trophies he won in his tenure, Enrique comes very close to what Pep had achieved. Even his record in the first 100 games is better than any other Barcelona manager. Therefore, for the fans to hurl insults and abuses to their departing manager is uncalled for. He has guided them through two back to back league wins. He also led the team to win a treble in 2015. In any other clubs, such managers would be worshipped as legends.
The shocking 4-0 loss to PSG is thought of as the trigger for Enrique's decision. Barcelona were knocked out of quarters last season owing to a lion-like display from Atletico Madrid. Europe hasn't been Enrique's forte except for his first season. The only other point at which the Barca loyalists have a right to complain is Enrique's decision to reform the Barcelona identity. He changed the way things worked in the club and switched to a different system altogether. Though it has more or less worked for him, many wonder where the club would be had he stuck to the traditional means? All that being said, Enrique leaves behind him a successful legacy. He leaves behind an in-depth squad, fueled by the talent of young upcoming stars like Denis Suarez, Aleix Vidal and Sergi Roberto.
What's next for Barcelona?
Well, Barcelona is reportedly working on a short list of candidates to replace Enrique. The tough part is the tricky set of requirements a coach has to meet for the Barcelona job. There are factors like the equation with Messi that have to be kept in mind. That isn't usual at other football clubs. Hence, the Barcelona board has never really appointed the first choices of others. One major option reportedly in the Barcelona list is Sampaoli, the Argentine managing Sevilla. His tactics are heavily admired by the fans of La Liga and resemble Barcelona's identity. Though, the man has played down any chances of that happening.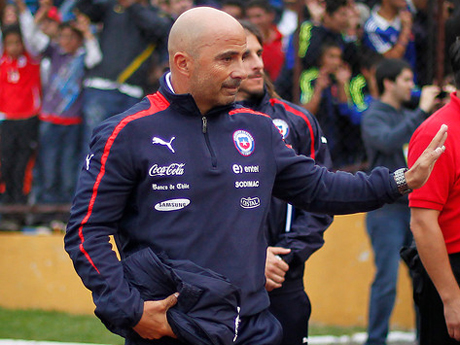 "The Barcelona job? That question has no answer because it doesn't exist. I have no idea what is being said, at this stage of the season to speak of candidates doesn't make sense. I am connected with this sporting project at Sevilla to death."
Ernesto Valverde is also considered for the job for he himself played for Barcelona in the early 90s. Given Barcelona's inclination to sign managers connected to the club, he might hold an edge. Now it needs to be seen where the Barcelona board takes this decision.