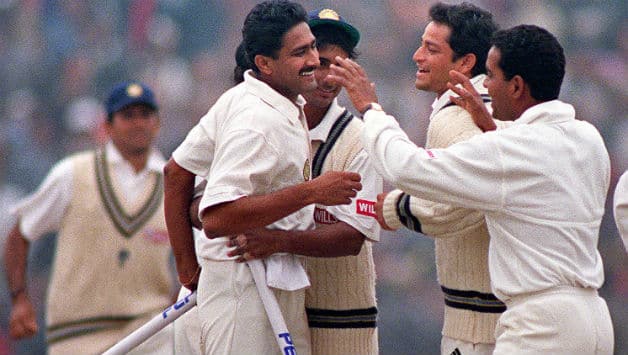 How Seldom do you find two Pakistani players on the opposite side of a debate over an Indian player? Very recently, Virender Sehwag shared a news report, stating Waqar's plans to foil Kumble's achievement. The tweet made was:
Kismat ke aage ,all saazish fail.
Well done Wasim bhai.
What a day it was at the Kotla by Anil bhai. pic.twitter.com/xDzMd39XOq

— Virender Sehwag (@virendersehwag) February 7, 2017
As mentioned in the report, Waqar wanted to get deliberately run out to deny Kumble a chance to get all the ten wickets. Though, Akram decided to go against the idea. He believed they should rather fight to save their wicket than doing something like that. As luck would have it, it was Akram who became Kumble's tenth wicket.
Sehwag, who is known to be very witty over social media, shared the post and commented Akram for his decision. Though it got noticed by the accused in question Waqar very soon, and he refuted all claims. Here is his tweet:
@wasimakramlive This never happened !! I think age is catching up with Wasim Bhai ? #NotTrue. pic.twitter.com/ZK8sdjK64u

— Waqar Younis (@waqyounis99) February 8, 2017
This tweet was enough to set things up for an all out social media war. Akram in response tweeted: "Get your facts right mate. And if we are going to go down the "age" road you know I'll beat you in that game every time."
Though he later deleted the tweet to avoid further conflict. The war of words, fortunately, was limited to that point and didn't escalate further.
People on twitter did have a good time, though.
Waqar Younis vs Wasim Akram… Part-time Partners; Full-time Foes ! ????? pic.twitter.com/G0zKkgVPEi

— Navneet Mundhra (@navneet_mundhra) February 8, 2017
Ok bye! 🙂