Zlatan Ibrahimovic has revived his conflict with Manchester City manager Pep Guardiola. The two share a bitter past, with both the men having certain problems in their time at Barcelona. Though Pep hasn't clearly talked about it in media, it is not common knowledge that something was wrong.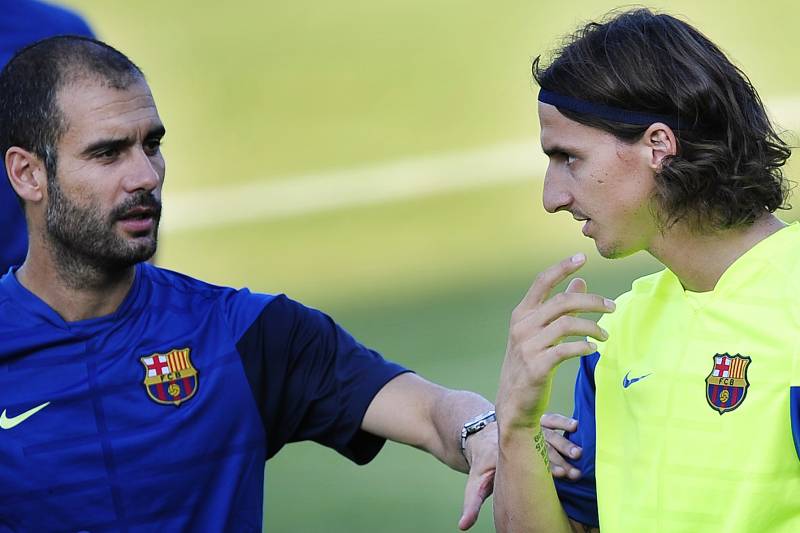 Zlatan at Barcelona: 
Zlatan is one of those rare players who has always been sought after. He excels at every club he goes to, right from the beginning of his career. Barcelona was no exception as Zlatan came and made his mark almost immediately. Though, things soon went downhill. For unsaid reasons, Pep sidelined Zlatan. There were multiple speculations about the possible reasons behind Pep's actions, but no one knows which held the truth. Someone as prolific as Zlatan could never waste his play time on the bench and hence decided to make the move to PSG.
One of the possible reasons why it happened is Pep's intentions with regard to Messi. During the 2009 season, Pep had observed the efficiency of Messi as a false 9. Thus he decided to switch to the formation permanently. In such a formation, Zlatan would find no place as he didn't possess the skill set of a winger. Therefore, Pep phased him out of the squad. Going by how Pep works, he doesn't mind making professional decisions no matter how ruthless they are.
The confrontation:

Zlatan in his autobiography had mentioned that he once had a confrontation with Pep Guardiola. In a particular incident, he mentioned that "Guardiola was staring at me and I lost it. I thought, 'there is my enemy, scratching his bald head! "I yelled: 'You haven't got any b***s!' and worse than that I added: 'You can go to hell!' I completely lost it, and you might have expected Guardiola to say a few words in response, but he's a spineless coward."
Guardiola, on the other hand, has never really talked about his equation with Zlatan. The duo will be facing each other in April, next month. The Swedish striker also admitted that Pep's presence in the opposition motivates him to perform better. The score of derbies stands at one win each for both the Manchester sides.